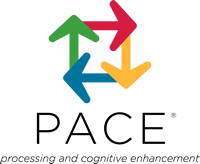 Cognitive therapy, based in the PACE program, utilizes a series of challenging exercises that rapidly improve concentration, recall abilities and processing speed. And that's not all...
Cognitive skills are the processing or brain skills each person must have in place to learn well. The PACE Program (Processing and Cognitive Enhancement) builds maximum improvement in processing skills rapidly through cognitive training. Our students average over 3.6 years of improvement in their deficient skills in just three months of intensive work with fun, challenging procedures. After twenty years of offering the PACE program, we see that it is still the quickest way to make big processing skills changes.
PACE would be a great choice if your child or student is having difficulty learning in one of the following ways:
paying attention

learning to read or spell (struggles to sound out words)

slow with math facts

does not complete assignments

memory

comprehending or understanding

working too hard for what is achieved
PACE integrates well into other therapy programs designed to treat those with processing disorders such as auditory processing disorder, sensory integration disorder or visual processing disorder.
Call today to discuss cognitive therapy and how the PACE program may benefit you or your child (512) 609-0745.