Testimonials
Katelyn tutors our son in reading. We've been amazed at how much he's grown in ability and confidence in just a few months. He's in kindergarten, but we were really worried about an emerging lack of self confidence caused by his early struggles with learning to read. In a few months, he's gone from not being able to recognize many letter sounds to being able to recognize basic letter sounds and read basic sentences. He's now working on advanced code - sound blending - and emerging sight words with continuing progress. At school, his teacher noted that he has stopped giving up at the beginning of a challenging lesson and no longer says things like "my brain just can't learn this".
Katelyn is adept at moving him between tasks and giving him breaks in a way that keeps him interested in the material and happy to return for more lessons. I can also tell that she's thoughtful in her individualized lesson planning. When he struggled to keep his attention learning advanced code last week, Katelyn came back this week with a different way to tackle the same concepts. Observing his lessons, I've gained insight into guiding him in home practice and I think that's been another value add of this tutoring.
The support we've gotten from ALS has been worth every penny. We've also decided to get testing for our daughter with Ms. Katelyn and explore tutoring options for her.
- R.S.
- Judy, mother of a 5th grade son with severe learning disabilities
We will get started on the RAP again. I truly feel like ILS helps her regulate!!!! Last night when I was getting her Calming Prep w/ Chant ready, she said, "I just love this music...it helps me relax." So that is testimony in itself that her body responds to it if she is verbally expressing that.
- Keely, mother of a child using the iLs Sound Therapy Program
I found Ann Conolly using a Google search. My son was in the 5th Grade at the time, age 10 with reading difficulties. When we set up our sessions with Ann, I was extremely impressed with her tenure both as an educator and as a Reading Specialist. I truly appreciated the work we did at home (on line program) and the feedback provided during our weekly sessions. Ann uses a unique multi layered approach to address each individual child's needs. I am thankful for her interest in researching new methods to approach a multitude of reading difficulties. With Ann's help, my son was able to improve his reading four grade levels. She is professional and a pleasure to work with. I am just so thankful to Ann!
- Jennifer Hicks
"I was so impressed with your process yesterday. You've obviously researched and developed unique methods. You mixed it up enough to maintain my daughter's interest and concentration....ending with a card game when she started to wane."
- Evelyn R.
"Ann worked with my 1st grade son for about 4 months starting in the spring. We were informed by the school in February that his reading level was still early 1st grade and by June he should be approaching a 2nd grade level. We found Ann and after talking with her and testing decided this was the right program for our strong willed, easily distractable boy! In 4 months his reading level jumped 7 levels and was in a strong 2nd grade level, exceeding the expectations of the school. We highly recommend Ann!"
- Jenny B.
"Hello Ann!
It's great to hear from you! James has matured a lot since you worked with him. He is doing his homework independently and maintaining good grades. The PACE program not only gave him the confidence to do well with his academic school work but also helped him become more focused in his extracurricular activities. He is now a level 8 gymnast and just finished getting back from competing at regionals in Kansas City.
I must give credit where credit is due. I strongly believe that James' positive school attitude and ability to do his school work without having to seek homework assistance is a reflection of how effective your PACE program was on James. The PACE program is amazing, but your outstanding dedication and encouraging words were also strong factors behind his success.
I want to thank you from the bottom of my heart for all you did for my son. I saw and continue seeing the positive difference your teachings and the PACE program made and continues making on James."
- Amy B.
"Ann, I never dreamed when I was looking for a "reading tutor" that I would find such a partner and champion in working with and for Misty. You are such a blessing to us. I am astounded by the progress Misty has made, and I am hopeful that we can piece together the right combination of services to allow Misty to become all she was created to be. With a grateful heart,
- Leslie
"My husband and I cannot say enough positive things about Ann. Our son struggled with learning to read in Kindergarten. Learning sight words was particularly problematic for him as was identifying rhyming words and following multi-step directions. I am a former teacher, and my bag of tricks was not helping him. Ann evaluated our son in March of his Kinder year and quickly identified fundamental areas that we needed to address. We also began a Listening program using sound therapy to target sensory motor issues.
Ann is the ultimate professional, but she is also a great motivator and coach. Although my son had started to shut down at school and with us at home, he was willing to work for Ann. She is just the right combination of no-nonsense and positive encouragement. She knows her stuff. I immediately felt that my son was safe in her hands and that our money was well spent. As a parent, I learned so much from watching Ann work with my son, and she gave me the confidence to implement what she was doing with my son at home. My son worked with Ann throughout the summer after his Kinder year on reading (in addition to doing a sound therapy program). The progress he has made with reading is truly remarkable, and I cry when I think about the difference in my boy in less than a year. We were already beginning to hear him make comments that he wasn't smart and that reading was too hard for him. Under Ann's guidance and instruction, our son's confidence has soared. Not only is he reading, but he views himself as a capable learner and reader — HUGE!!"
- Elizabeth B.
"Ann's work is impactful, successful and is helping make a difference in my son's schoolwork and his life. After the initial tests, we learned our son had a hearing processing issue that was never diagnosed before. It made so much sense when we looked at his speech, spelling and attention span. We've been on the iLsprogram for 6 months now and his school work has dramatically improved. He even received 100's on his spelling tests and his reading is stronger than ever! And, his social interactions and communication are improving now, too. Ann was so patient with our son. He was not easy to work with and definitely challenged her. But, she cares so much and it shows. She worked with his needs and interests to keep him engaged and challenged. She was great at setting boundaries with him and he knew exactly what was expected. The results speak for themselves. It's been a game-changer for us and our son. It's so worth it!"
- Ellen W.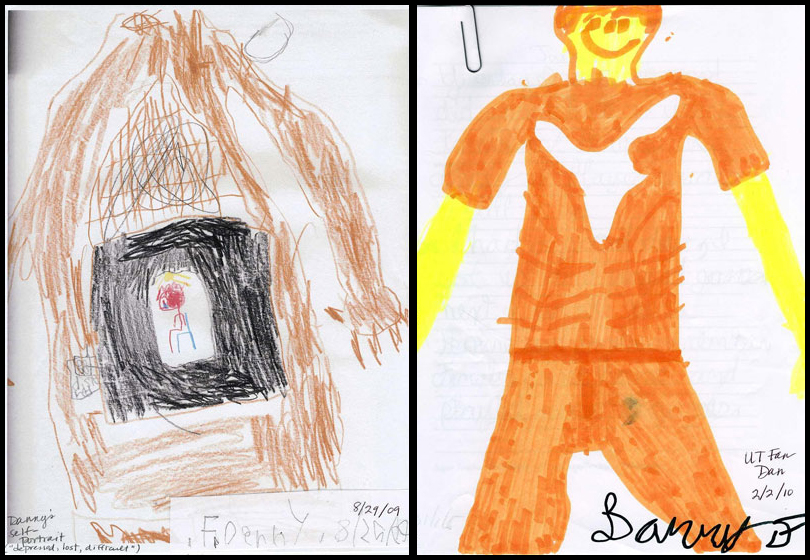 Comment from a former student (nine-years-old, with diagnoses of dyslexia and ADHD):
I used to think of my thoughts just swirling around in my brain, but my thoughts are on shelves now, in files, more organized. And I can think of something longer.
Ann worked with my son on processing skills, cognitive and speech type therapy, and did the sound therapy program. Working with Ann has helped my son a great deal. By the end of our sessions we could see positive changes, and with this new school year we can really see a difference in his discipline and attitude toward his studies. He has made improvements in all his grades and personal development. He is much more responsible and try's harder now. His speech skills and social skills improved during the sessions as well.
- From Angie's List
We are so pleased with our 14-year-old son's progress as he worked with Ann and the Learning Ears program these past six months. Danny's reading is so much better! He has learned to decode words instead of just guessing or becoming really frustrated and not wanting to read.
Ann is firm and caring with her students and really wants them to succeed. Our son looked at his test results at the end of the program and was smiling to see his progress. We will follow through with Ann's recommendation to continue The Listening Program and other useful tips she gave us to keep our Danny moving forward. Thank you, Ann, for your patience with a sometimes-not-so-happy teen!
- Leslie F.
Max is doing so well in school this year. It is like a totally new world! He is doing awesome in math, reading at a DRA 20 and he has gotten 100% on EVERY spelling test this year. CAN YOU BELIEVE THAT? I am so happy… mostly because I can see the change in his self-confidence. I feel like I owe you so much and I definitely want to have Max work with you on reading next summer so he can continue to improve. Thank you again for everything you have done for Max.
- S.R
"Austin Learning Solutions has been absolutely life changing. My son is dyslexic. He was two years behind in school academically. After months and months of skepticism, we worked with Ann for 12 intense weeks in the summer. We used a couple of her programs that were very successful. Ann does not simply provide tutoring. She has the knowledge and expertise to work with the brain to make changes in how the student acquires and retains the information. She's not a quick fix. It's not always easy. She's worth more than money can buy.
While the programs Ann used were extremely effective, the most important component was Ann. She has an innate ability to ever so gently encourage and push students to their full potential. Not only is she an expert educator, she is a fabulous person full of joy and passion for helping struggling learners.
Just as Ann said, 6 months after our session, we continued to see cognitive improvement. My son was almost on grade level and was making B's and some A's in middle school. He just graduated from high school and has been accepted to several universities. We owe much of this success to Ann. Don't waste valuable time like I did, start now."
- L.W.
Hi Ann,
I want to thank you so very much for what you have done for my grandson Elijah. He always had such a difficult time reading until he started working with you. His reading has improved dramatically over the past 6 months. Before, we could hardly get him to read any kind of book; but, two weeks ago, I was talking to him on the phone and he said, "Grandma, do you know what my favorite subject is?" He said "READING". I thought my heart would jump right out of my body.
You don't know how happy that has made all of us.
Thank you again,
- Judy H.
Ann is just wonderful. I took my fourth grader to her because he seemed to be struggling with reading. After a 20 week course of Learning Ears, the changes are obvious. His reading fluency, accuracy and expression are all greatly improved. His confidence has gotten quite a boost. A pre- and post-assessment were done. We had significant gains. We are very pleased.
- Kim K.
Thank you for all your help, Ann. I am still amazed and grateful when I hear her read off the TV or a billboard. We wouldn't be at this point without you.
- Mark P.
Hello Ann,
I sent an email inquiring about PACE tutors in the Austin area. I was so excited to see your name at the top of the list in the reply I received.
There are no accidents in life! I am so glad to hear that you are back. I can now share the great gift that you are to other families that are in need of your kindness, care and understanding. Chris will be a Sr. next year. He started driving and just finished his Eagle Scout project...
I would love to hear what you have been up to. I know life in this community just got better because you are back in this area of town.
- Renee D.
Dear Ann,
l want to write a Letter of Recommendation and Appreciation attesting to your ability, your patience, and your professionalism as an Educator. l had no expectations of what a "Summer School Teacher" would do, or should do, when l contacted you from an ad in the local paper.
Your teaching program is surprisingly different. You are a master at delivering it to the student and adhere to a strict code of concentration during the hourly sessions. Cooperation from the parents is also vital to the success of your program. By working with the student and the parents the course will be a tremendous benefit to the student as he enters the next school year.
l am excited to have met you and excited for the eleven-year-old with whom you worked this summer. l am absolutely sure, as a result of your work, this student will sail through this next year and the years following, as the skills learned through your program will grow and help the student to prosper in life.
You have my full appreciation for your teaching ability.
Respectfully,
- V. Hall Capt USNR-R [Ret
Will was near the end of first grade. Although he had much extra help at his school and after school, he was reading at early first grade level. He did our phonics program, and within three months was reading at mid-second grade level. Now Will loves to read!
Dear Ann,
Thank you so much for helping us with Will's reading. You were literally a God-send!
- Sylvia S.
Lara had problems with attention and behavior, getting poor conduct marks, and she had poor reading comprehension. She did the PACE program with Ann.
Yesterday the school sent home Progress Reports and I am very happy to tell you that Lara made all A's. She has had excellent behavior marks since the first day of school, and she says that she loves school. I don't know what to say except that I am truly grateful to you for all of the time and effort you put into helping us. Lara's confidence and attitude are great. I am keeping a close watch on her work to make sure I give her extra help where she may need it (but so far she hasn't needed any). She seems to be comprehending things more quickly now.
Thank you for being so kind and making the PACE program as fun as possible. Lara never complained about going to see you and always had a smile on her face after her sessions with you.
Lara is doing excellent. She has been making A's in everything except math, a very strong B+. Her behavior marks have been excellent as well. We both couldn't be happier!
- Roxanne H
Six months after Jacob completed his program, I had a phone call from his mom:
Jacob has improved so much. He has a high B in reading and a 93 in spelling; all homework is A's. Report card is A's and B's. He didn't want to go to school last year. He used to cry if we went to a bookstore or library. Now, Jacob wants to go - a dramatic change! He wants to read for two hours! He wants to go to school and is having a great year. I'm SO thankful!
- Stephanie K.
"Our eight year old son was obviously very bright, but he struggled in academics. He was becoming so frustrated with writing that he dreaded even writing a simple sentence. In reading, he was slow and falling behind grade level. He also exhibited problems relating to peers, regulating his affect and concentrating. We were extremely concerned as parents, so we began researching and consulting experts to determine how to best help our son. This was a frustrating and daunting task, because when dealing with the brain it is not easy to get a clear picture of what is happening. In the end, we learned that he had a variety of neurological anomalies that were contributing to his learning disabilities. Some of the recommendations we were given were helpful and some were not.
One recommendation we were given was to find a reading tutor for our son. We were blessed to find Ann at Austin Learning Solutions. Ann's evaluation results were very specific, and the educational treatment plan was effective. At the end of his tutoring sessions with Ms. Conolly, he was reading above grade level and writing paragraphs as a calm, happy child with a love of learning! I would recommend A+ Learning to any parent of a child with reading problems. Ann's experience, knowledge, and thorough attention to my child's educational plan saved my son from a life of frustration.
As a parent, it is such a relief to finally find what works for our child. By utilizing exercises that develop the brain's neural pathways, our son 's mind functions more effectively than ever, and it is wonderful to see him blossom."
- Jennifer C.
Thanks again for all your hard work with Eli. It has paid off in so many ways...
- George C.
Thank you for showing me patience
when I was lost for words,
A path to explore with my writing,
And kindness when I became frustrated.
- Stephan
Hi, Ann! Travis has had an outstanding 5th grade year. After the first 9 weeks, the special ed. teacher recommended we move Travis back to regular LA for a trial run. We have a wonderful regular ed. teacher who recognizes how bright Travis is in spite of his learning differences and he's doing great. As a matter of fact, they took the practice TAKS reading test last week, and Travis finished it! In 3rd grade, he took the practice TAKS reading test, worked on it all day and still didn't finish. So this was a huge victory for him! He loves being back in the regular classroom.
Thank you for your help this spring and summer. I'd say he wouldn't have made near the improvement without PACE. And, Travis used your visualization technique to remember where the 13 original colonies were. He came up with his own pictures and word associations and got all the states in the correct place!!! It was awesome.
- Jana W.
...The benefits from PACE were very evident all throughout the 4th grade. Luke had reduced stress and improved abilities. Just as you had told us, the foundation of what I call "brain training" that PACE provided transferred into every academic area that Luke was challenged with. Things were just easier for Luke. After the first summer we thought that PACE was the best thing that we had ever done for Luke, and as you know we have done a lot of other things.
We were also very pleased that you introduced Luke to PhonoGraphix during the school year. This was a much better way to learn to read, write, and spell that the confusing phonics he was getting at school. The combination of PACE's cognitive enhancement and PhonoGraphix's skills made Luke's 4th grade year his best ever. His teachers were commenting on the progress he was making and the corresponding improvement in his attitude. I am also pleased that during this time the light bulb finally went off, and he started to want to read. I had doubted that this would ever come for Luke, given his prior difficulties with reading.
- Craig D.
Yesterday my heart was filled with joy during the Learning Ears lesson because I knew Erin was making significant progress. She used expression for almost the whole lesson, tiring only in the last 5-10 minutes. She is doing GREAT in stressing the correct words in each sentence (Something good readers all do intuitively. I never paid much attention to it before.)
- Kathy G.
Steven's grades in high school are good. He is doing well in all his classes. His reading and spelling has still improved tremendously. I'm so glad we decided to use this program. I honestly don't know what we would have done without you. We both appreciate it so much. Steven sent me a text message on my cell phone the other day and every word was spelled right. Before I probably couldn't have made it out!
THANK YOU SO MUCH!
- Candy G.
My son, Gregory, has just completed the 12-week PACE program. As a parent of a child with a learning disability, I was somewhat skeptical when my wife first looked into the PACE program. I want to strongly recommend this program to anyone who has a child with any kind of cognitive learning disability. To say that I have been amazed is an understatement.
Gregory can now do things that I think are impossible, and I wouldn't attempt myself! The tools he has learned from this Have helped him immediately, and I know will help him in the future. Ann has been a wonderful, patient and sometimes forceful guide for my son, for which I am grateful.
- Lawrence H.
... Steven has improved from a mere 53% to 93%. He is now above his grade level in reading! One of our goals for Steven was to give him the tools that he could actually use independently. PhonoGraphix definitely did that. Early on you had mentioned that what you liked about the method was that it simplified reading. It certainly gave me the tools along with him to help him decode.
Thank you for your patience and the ability you have to bring out the best in your students. Your encouragement and attention were priceless. Your soothing voice and attention to quality time and detail was a blessing.
- Caryl A
Dear Miss Ann, I'm enjoying the e-card you sent and the Star Date magazine. Thank you for teaching me because a good education is better than any present.
- Zachary
After much extra help at school, I found out that my son was still reading below first grade level. Then we found A+ Learning Solutions. The decoding concepts Ann taught empowered Andrew. At the end of six weeks, he was decoding 4th grade words, was no longer frustrated with reading, and was actually reading above his grade level.
- Maria C.
Hello Ann!
It's great to hear from you! James has matured a lot since you worked with him. He is doing his homework independently and maintaining good grades. The PACE program not only gave him the confidence to do well with his academic school work but also helped him become more focused in his extracurricular activities. He is now a level 8 gymnast and just finished getting back from competing at regionals in Kansas City.
I must give credit where credit is due. I strongly believe that James' positive school attitude and ability to do his school work without having to seek homework assistance is a reflection of how effective your PACE program was on James. The PACE program is amazing, but your outstanding dedication and encouraging words were also strong factors behind his success.
I want to thank you from the bottom of my heart for all you did for my son. I saw and continue seeing the positive difference your teachings and the PACE program made and continues making on James.
- Amy B.
Changes Seen After Safe & Sound Protocol

Less emotional reactions

mistakes not frustrating him as much

not so quick to get upset at small things

transitions better (doesn't get upset when it is time to leave park or go inside)

More helpful/agreeable

offered to help more with tasks (laundry, cooking, dishes)

picked up room without being asked and then when reminded did without whining or did quickly

Better focus

did tasks beginning to end without getting distracted

Angie, mother's notes of a child using the Safe & Sound Protocol, a 5-day sound therapy program