Is your family affected by autism? Many are finding that their autistic child or adult responds positively to sound therapy, neuro-scientific programming in which filtered frequencies are applied to the brain through specially recorded music.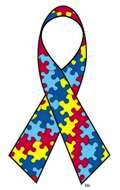 Over time, sound therapy causes new synapses to form, improving the brain in specific, deficient areas.
As you may know from reading this website, I am an Integrated Listening Systems sound therapy provider. iLs' new program, the Safe and Sound Protocol (SSP), is a 5-day program, one hour each day, which parent and child can do at home with SSP equipment/music (a rental from Austin Learning Solutions). The Safe and Sound Protocol is being used with autistic spectrum clients and has also shown very good results for children and adults with anxiety.
Dr. Stephen Porges designed the SSP to calm the autonomic nervous system. This calming effect brings balance to disregulated emotional and physiological systems, allowing the child to feel safe. The "fight or flight" response is diminished, enabling the Social Engagement System to open up. The child's ability to communicate and interact with family and others can progress. This enhances the efficiency of following therapies.
You may read more about the Safe and Sound Protocol here: http://integratedlistening.com/ssp-safe-sound-protocol/.
Be sure to read David's story (a student with Down Syndrome), on the same SSP page. Clinical use of the Safe and Sound Protocol is showing great results for both autistic and non-autistic clients. This link shows two columns about Pre- and Post-SSP state: http://integratedlistening.com/ssp-safe-sound-protocol-clinical-resources/.
Hope this is helpful! Please forward this to someone you know who may benefit from the Safe and Sound Protocol.