This is so interesting! A graphic designer at the University of Twente in the Netherlands has designed a special font to make reading easier for dyslexic children and adults. Read the article here.
You can see examples of dyslexie and download the font (free of charge for home use) here: dyslexiefont.com
This morning I found this in my inbox:
"Hi Ann!!! Exciting news!!! After a couple of days in the educational doldrums, R. has popped up this morning with better attention and has grappled with hard concepts with comparative ease! She even made a clever deduction about how to find the area of a cylinder! We've studied how to find the area of a circle, and the area of a right solid, and she must have put that info together and deduced how to find the area of a cylinder! Blew me away! That's not the kind of "link" she usually gets on her own!!!!!!!!"
This is for a girl who has attention and reasoning issues and has been using an Integrated Listening Systems' Focus program for a few months. Her progress has been consistent, and I'm always delighted to see this type of response, as the changes usually show up more subtly.
Yesterday I attended another sound therapy seminar, always adding to my understanding of the changes this therapy can produce in our brains and our behaviors. Sound frequency zones, applied through bone conducted sound, can have profound effects on auditory processing, and therefore on reading and comprehension, on focus and attention and on executive function skills. Balance and coordination and memory are also positively affected, so this can be a very helpful program for aging brains. It has sure helped me! Going to put my headphones on now...
Last week I read a health column in The Statesman that I thought might be helpful. Much of it is quoted here. (italicized comments are my own.)
"An Ohio State University study looked at more than 11,000 kids from fifth to eighth grades and found that the more fast foods the fifth graders ate, the lower their test scores in reading/literacy, mathematics and science three years later. (And this is when they are supposed to gain a lot.)
Eating fast food three or more times a week was associated with a whopping 20% smaller gain in test scores!
What is it about fast food that dumbs down kids? Research shows that diets high in fat and sugar have an immediate negative impact on memory building and learning.
That one-two punch KOs neurotransmitters that the brain needs to think and form memories! Plus, nutritionally deprived fast foods lack iron and other nutrients that build brain strength, while trans fats used to fry foods flat out dull your brain power."
-- Dr. Mehmet Oz and Dr. Michael Roizen, Austin American Statesman, 1/21/15, p.D12
If you explain these facts to your kids, the homemade, high-protein sandwich packed with fruit and a bottle of water may sound better!
In seventeen years of serving private students, I've seen cursive handwriting go away. Most of my students use a form of slow, immature printing no matter what age they are. Does it matter? Recently a friend sent me a New York Times article, "What's Lost as Handwriting Fades?", which poses that very question.
Common Core curriculum provides for the training of handwriting in the first two grades, but dispenses with it in favor of keyboarding after that. However, according to the NYT article, children learn to read faster when they are being trained in handwriting. Good handwriting skills also positively affect working memory and enable a student to produce more words and ideas faster when given a writing assignment.
For a long time, I've admired the work of Jeannette Farmer, one of a few U.S handwriting specialists and an educator of educators. Ms. Farmer who has spent many years studying brain research, holds that handwriting plays a critical positive role in the education process, and the absence of handwriting training causes a profoundly negative result in the quality of our students' educations.
My point in this post is: Parents, I urge you to get your child the training he/she needs to develop good handwriting skills. Summer handwriting camps abound, and the home practice must continue. Brain growth and development for the education years is now.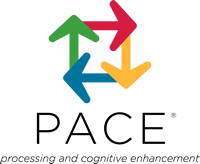 In the 14 years that I have been a PACE provider, I'm always thrilled to learn of the fantastic results we get from this intensive cognitive training program. Corresponding with another PACE provider in Arkansas, I read this wonderful report:
"One of my students has six benign brain tumors. Her middle school years consisted of horrible side effects from her medications, headaches, resource classes, bullying, and visits to psychiatric hospitals. After PACE she was removed from all of her resource classes. Five years later, she is on the A-B honor roll, has learned to play the clarinet and marches in the band. Her self-confidence is beautiful to behold!
We did the program at the end of her 7th grade year. She had never been able to learn her multiplication tables, and the first day of eighth grade she brought home a page of problems and proceeded to just write out the answers! Her mother just bawled!"
I've included this story (with permission) on my blog to encourage parents of students who are very involved with physical and learning issues. Cognitive therapy and auditory training can work wonders in many areas: reading, attention, logic, memory, and organization skills. I've seen this so many times, which is why I love my job! Other testimonials can be read on my website.