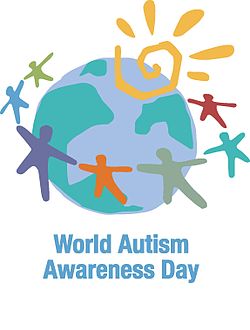 April 2nd is World Autism Awareness Day. The prevalence of autism has increased dramatically in the last ten years, 57% between 2002 to 2006, according to one news article.
A quote from an online news source:
UNITED NATIONS — Secretary-General Ban Ki-moon praised the courage of children with autism and their families on the first World Autism Awareness Day, calling Wednesday for all countries to respond to their needs.
He commended the initiative by... the General Assembly to designate April 2 as a day to focus on children and adults suffering from autism.
"Let us pay tribute to the courage of children with autism and their families, as they strive every day to confront the disability with a powerful combination of determination, creativity and hope," Ban said in a message read at a panel held to mark the day. Read more here

Autistic adults are also in need of understanding and services. Read "An Adult Conversation about Autism".
The Listening Program, researched and developed by Advanced Brain Technologies, has proved to be very helpful to children and adults on the autism spectrum. ABT case studies are shown here
Austin Learning Solutions offers The Listening Program with and without the Bone Conduction system for learners in the Central Texas area and for Distance Learning anywhere in the U.S or Mexico.
Make a Lego marble labyrinth. This is a very spatial, tactile, logical task that requires clever thinking and some trial and error. A great problem-solving activity.